Are you a woman victim of Islam?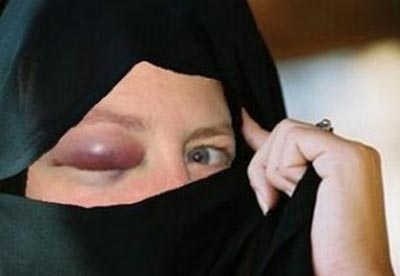 Recently, a friend of mine who is a respected author and journalist asked whether I would be interested to co-author with her a book about women victimized by Islam.
I receive many emails from women, both those born in Islam and those who fell in love with a Muslim man and suffered the consequences.
Although Islam victimizes everyone, women get the lion's share of it. It is natural for a Muslim man to abuse the women in his life. He learns it from his father and practices it on his sisters. All this training will serve him to become controlling of his wife and harsh towards his daughters whom he regards as his chattel.
Women in Islam belong to their men.  They can be abused verbally (admonish them). emotionally (kick them out of the bed) and physically (beat them) as is enjoined in the Quran 4:34.
Since they are deemed as deficient in intelligent and in faith, their equality is negated, their rights are violated, and their independence is denied, Muslim men grow up thinking it is their God given right to use them and abuse them. We can see this behavior in animal farms, where animals are seen as commodity, and as the result treated in the most inhumane way imaginable.  When Islam views women as inferior abusing them comes natural.  Some scholars have gone as far as to equate them to animals.
If you are a woman and feel you have been a victim of Islam,; if you feel the Muslim man who declared his undying love to you, even before meeting you, only used you for visa proposes and his personal gain, we would like to hear from you. Write your story and send it to me. Be as detailed as you can be. If we choose to include your story in our book we will edit it and will send it to you for your review. You don't need to reveal your identity if you so choose. Even if you think you are not a good writer, we can work with you to make your story it a great read.
Your story matters and we believe the more non-Muslim women learn the truth about the dangers of getting involved with a Muslim man the more we will be able to save their lives.
Please like this in your Facebook and share it with your friends.
Ali Sina