Allah Akbar, or Are You Entertained?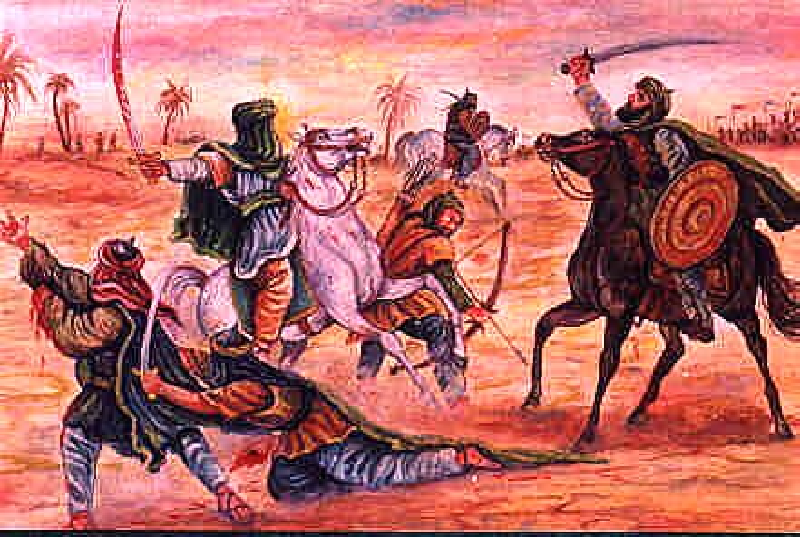 by  Khalil Fariel
What will do the due to the ingeniousness of Alfred Guillaume for his legendary "Biography of Muhammad"? It is a translation work indeed, but to know the genius in details, one shall necessarily compare it with original Arabic version. There is nothing discernable in the translation suggestive of a mistake, or even a bad phrasing. It is almost done verbatim but the readability of such an academic piece of work is amazingly equivalent to a best seller of this times. If Ibn Hisham the author was redacting the original of an earlier Ibn Ishaq who is also the elder brother of the same, what in effect Alfred Guillaume doing was the art of reproducing a seventh century Arabia through translating it for the whole world to go through. Consequently, few if there is any serious reader can escape from the atmosphere Mr. Guillaume extended to the pages.
I commenced with the above; necessarily to make an entry to a certain portion of the book. It is on the Jewish tribe "Bane Quraiza" which once was a dominant ethnic group in the city of Medina of North Arabia, but faded into the annals without even leaving a trace of such an existence. Not due to any natural disaster, rather it was the handiwork of Muhammad, the prophet of Islam. I don't think Muhammad's frantic applause will go unnoticed by any who go through this particular segment. As early as his third year of stay in Medina, Muhammad had thus far ethnically cleansed two of the leading dominant Jewish tribes namely Banu Nadir and Bane Qainuqa. The last to remain in the city was the family of Bane Quraiza, to which Muhammad felt like dealing with the maximum on using a false pretext such as treason…, subsequently he besieged the hapless community for almost a month to deprive them off livelihood. The resultant unconditional surrender and the way Muhammad dealt with the people who were on their knees was effectively disclosing the real politician inside Muhammad. Sa'ad Bin Mua'ad who had a peculiar grudge to the tribe beforehand had been chosen by the allies of Banu Quraiza to decide the fate of the surrendered tribe.
No wonder; the proverbial "what the physician prescribed and the patient waited for" happened to be the same. It never was an accidental match, but a well-calculated scheme by the prophet himself. Sa'ad Bin Mua'ad the appointed adjudicator gave his verdict "All pubertal males of the tribe to be slain, besides the women and children to be taken as captives". It was Prophet Muhammad himself rushed to the scene first to applaud the adjudicator. "You did exactly according to my God in heavens". Muhammad screamed deliriously in the frenzy of joy, also it resulted into the nonexistence of a tribe, virtually.
What given above can be the most compact version of events comprising "Bane Quraiza Genocide". Because, there is no need to reproduce the same again and again especially when Gillaume crafted it graphically in details. Moreover, I wish the elements I use should necessarily be in limit of an article. Nevertheless, the vivid portrayal of the equivalent in Guillaume always froze me to some extent, as it should. Now, to pour salt to my wounded psyche I have a little more descriptive of the same or the equivalent to bear. Footage of the akin in modern context. Not to confuse it is a creepy Hollywood gimmick, but the real life recorded to match up with what scared me most. Phenomenal indeed, the way history embarks present without any restraint. The trending protocol to describe the miracle varies but majority seems to be in consensus to explicate it as malpractice of a decent (?) peaceful (??) religion like Islam. But having majority does not necessarily mean having the right to own the truth of anything or everything.
More of the identical are available now, but I never had what many will call 'guts' with me to glance on any of those accomplishments of current generation of Islam stranded in a certain locale of our planet, but never hold back to stretch beyond their orb whenever necessity pops up. The self-appointed redeemers of past in the brand name of ISIS or DAESH, and their marvellous performances are available for us to follow thoroughly and comprehend how Islam always win. Not to deflect anymore, I am coming back to the topic: I don't know what led me to it, perhaps you call it my heartlessness or the horrendous apathy, but I ended up in downloading one segment of ISIS' much acclaimed undertakings. I had the idea beforehand, landing on moon hardly is a triumph for ISIS, not because the infidel Americans did it once, but way before the nation USA had born, their prophet split the Lune in two equal parts. Though still not aware of what particular glue was there with Prophet to merge the split parts of moon, ISIS cannot bother for such silly titbits, rather they have to focus more on what their Prophet was best in! To kill all those outside their abode, to enslave women and children, to rape women with particular zest on under-aged girls. How many of us are aware of the fact, a great civilization is blooming amidst of us with much sophisticated technological advancements in the art of killing and pillaging? If civilization means developing from primitive basics, we have those archaic definitions rectified to 'reclining to the basics'. More importantly, it is not a free lunch; rather consider it the price of growth and development aimed towards the past, the glorious past of an Arabian Desert context.
What I saw was the same, blood and marrow all over, but stunning is the literal similarity to the long forgotten Banu Quraiza massacre it reflected. How victorious a lot to reproduce history or a very specific portion of the past? With no actors, or technical body paid for it? Even in the creepiest delusion, I failed to depict a holy massacre similar to that of Bane Quraiza. I have to put an emphasis on holy here, because it was under the active participation of Prophet Muhammad, the genocide attained. Ali the son-in-law of Muhammad, and sometimes Muhammad himself met with those fraught unfortunate souls, their hands tied to their backs. Often in a flash, swords waved and decapitated were dumped in the pit. Collapsed were mutilated corpses of humans, only for the reason they happened to born as humans disregarding the tribe they will belong to later..,
Whilst it has become the accepted norm for the archetypes of Islam to thrive among us with their hysterical passion in finding souls for having fun, what is unusual about their consequent achievements reaching us aired on quite often or in more frequent basis? What I read in the book and what was bothersome to watch in my small screen were perfectly matching with a striking aspect common in both. The victims were hapless innocents in both instances. The thing that we are uneasy about!
I must be forgiven for not having necessary fortitude to go over the footage once again, which consequentially ended up in a disorientated me. I could not exactly discern what those victims were crying their eyes out. It was in their colloquial dialect; painstakingly I followed but in vain, because all went on a flash. An adolescent was the first to fall among them receiving a bullet on his temple while forced to lie on his front position. While bullets were being discharged to the heads of fallen humans, all I could see was momentary convulsions and nothing after it.
Blame it on my curiosity, though I was supposed to pause there but went on. What followed then was the exact Bane Quraiza replication. A tiled surface, at first glance the tiles were appeared artistically fastened together in a red shade, but in a moment of fright, I discerned blood! Thick it was. The platform was the bank of a river, where human scapegoats were led one by one. Their miserable fate was decided within a fraction. A bullet or two from both periphery and subsequent dumping into the depth of river. I did not count how many, but to my relief footage went on to something else though the killing was still going on. Pause was for the sake of focusing the cam on a dreaded piece of black cloth with a bit Arabic in it in white. I did not care to read because there was smoke been formed in my proximity or a kind of distortion that blurred everything afterwards!
All these were real life events, thinking of it reminded me how stupid I can get to burden the past with all these sorts of bloodbaths. Most of us were in relief so far to implicate a violent past. Pages of history books were stained with blood; still we left them behind to the primitive past. Now we figure out the marvel of resurrecting past and fastening it to the present. How progressive a technology of a civilization blooming among us..!!
To come into terms, I had to focus on something else, and for the purpose, I tried to absorb in Pentateuch of Judaism, often regarded as Old Testament by Christians. There was something to stun in it but not anything unusual since it was historical accounts of a very distant past. Still, I don't know what made me edgy about the psychological makeup of God, who showed no restraint while commanding his Prophets to besiege cities then to kill all living things save for virgin girls. Interpreted as God's directive to establish the Promised Land. Glad, bloodbaths appeared lessening once the establishment is over. God seems working on a fragile sense of morals not only in the recorded texts, also in present often causing inflictions like massive earthquakes that effectively wiping out certain villages, cities, and landscapes from the map. God was never working on any strict frame of morality. The precise reason for me to leave all apologetics behind to consider Old Testament as the most obnoxious ridiculous work of God if he ever had worked on one. Still glad neither Jews nor Christians refer it to weave their moral framework anymore.
The hostile disposition of God's Book is reflective of the ambience of Middle East where it originated. Qur'an, yet again God worked on also surfaced in the identical context is comparatively moderate in its violent composition. But when the same book is having revivals to establish itself to the only lingering text with blood on edges, there is nothing for us to sigh in relief. The violent contents of Qur'an never serve to hope for anything rather than more of the equivalents of Al-Qaeda, ISIS, Boko Haram… all meant to Harm and harm only.
How it went so far like past and present mixing up. Amidst of all of this, we are keen to preserve the awareness; none of us dwell in the past anymore yet it does not pay to allay our worst fears to any extent. The beasts amongst us doom us to live in the past, so we would rather learn the art of living in our primitive past. It is not only the guards of 'religion of sword' all the times remind us of our undeveloped basics. Only just, we gone through Rwandan genocide, a Pol Pot in Cambodia; all served us with fright. But we did (still unfairly) treat them as exceptions, because they were not incessant like the cluster bombardment of Muslims. Nor was Pol Pot airing the great achievements in "the art of killing". For the very reason, we had options in them to either turn a blind eye or infuriate our inner selves. Both never paid but; as we do know, apathy never pays. None other than Muslim orchestrators of genocide exported their accomplishments for the entire world to watch and learn a thing or many of the God the Great and his emissaries over this earth.
We have now the followers of "religion of sword" to instantly flood our moments renewing their glorious triumphs. What are we stupid to make out "a knife in right hand and a decapitated head in the other" is not any sort of achievement? Especially when some in our species habitually exhibit them for us to get ashamed of our revulsion? Whenever their swords wreck human necks, soon it aired and always the depictions ended up in the chanting "Allah Akbar". This Allah Akbar grunt is not meant to announce victory as we discerned so far. Things have changed a lot in the modern context. In this time, the yelling "Allah Akbar" is a euphemism of asking God, who remains in incessant remorse for being wrong by decorating 'some of his expendable creations' necks with heads. He is said to be ruminating over and over on how or who will rectify the grievous error he committed in a certain tiny spot of his vast dominion. At the moment, when he realizes of his wonderful delegates' voluntariness and enthusiasm in the same affair who else other than Allah himself is going to enjoy the art of decapitating? Consequently, when those magnificent volunteers shriek "Allah Akbar" it reaches to the heavens translated "Are you entertained?"
Next time when the scream reaches your ears, don't let you slip in uncertainty, for the question is never meant to you. But some among us gather it instantly to rejoice because apart from God, it is aimed them too. This particular flock necessarily consisting psychopaths in general with majority falls in the category of sociopaths and outcast deviants always with taste for flesh in their bloods. The artists of killings target this well suited audience in quest of more additions to their executioners. And necessarily the so-called moderates who for some unknown reasons always affirm they have no role in this trade other than that of casual spectators. That's right, but I don't mean all are being entertained. From my personal experience, I could discern a few of the peaceful moderates interested in the fun, but still won't venture to partake in it for some reasons only known to them. Perhaps they lack the elements within for such endeavours. The taste for blood is the accepted criterion but some among the peaceful moderates are unlucky enough to not to have such range in their overall psychological makeup.We call them victims, victimized to a great extent to label themselves as Muslims though they will never consent they are in need of help, nor accept our infidel service.
Over in a planet that exceptionally reserved for 'submitters only' we are the most expendables, then how can we be of any help for this reserved lot than voluntarily withdrawing our redundant existence? We are supposed to give up our active and passive furtherance sooner than men of God discard us. Are we ready to accept the fact? Then, thanks for what we did, for the reserved can turn to themselves to decide who are more suited, because some are more suitable than the others are for God. And God will be entertained this time wholeheartedly. "Allah Akbar" will get more pronounced then. What God wishes most and gods of God are aimed to.
But when are we going to recognize, it is a small price for us to pay by retreating to ourselves never announcing our being here? Choose the best among the better alternatives. When time is running out, shouldn't we a little more compassionate to the Big Guy in the heavens who badly needs us out of the scene? For his faithful to perform in the ritual without any restraint, then to ask him "Allah Akbar?"
We are not supposed to be pleased, but there are many amongst us and at least One above in heavens. It is high time for the One in heavens to get entertained incessantly. What we pay is rather paltry a price. Unless we are considerate to pay the pittance, what excuse us for crying? Cry me a river, the Big One speaks up, yet we pay no heed. Then what is our right for staging all our pretences?
[Author is an Ex-Muslim resident of the subcontinent. Can be reached at [email protected] or visit the main forum of the site. If you want to reproduce any of the author's articles, please with a link to the original in this site]