A Short Biography of Muhammad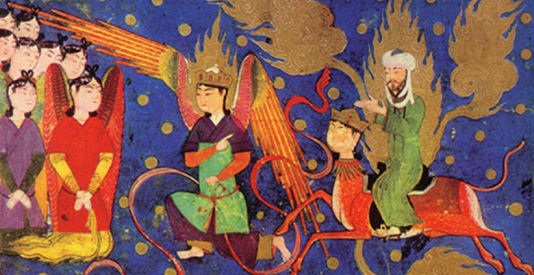 Recently, I met an American lady on Facebook who said she was shocked to read what her seventh grade daughter is being taught in school about Islam. When she sent me a scanned copy of the text I was appalled.
Muhammad is presented as a holy man, someone who stood for the weak and the needy, who was opposed to his people because they were a greedy folk. They chased him out of his home because they feared he will destroy their income. The book claims all Muhammad's wars were in self-defense, and says Islam spread  thanks to Arabs traders. According to this book, as Muslims went to other countries for trade, they taught their religion along the way and people flocked to Islam embracing it eagerly. There is no mention of any of Muhammad raids and the savagery of Muslims in attacking and massacring millions of people after him.  Jihad is mentioned as struggle for self improvement.  It is clear that this book is written by Muslims. And the reason is that few people know about the history of Islam. Some even doubt Muhammad's historicity. If scholars can be this confused, what do we expect from ordinary folk?
The ignorance of the life of Muhammad is not because of lack of information, but rather because of overabundance of it. There are four original sources of the biography of Muhammad. The Sira of Ibn Ishaq, the History of Tabari, the Book of Raids of al Waqidi and the Books of Classifications (Tabaqat) of Ibn Sa'd. These books are voluminous. The Tabaqat alone is in eight volumes, each having 400 to 800 pages. Not everything in these books is important. Al Waqidi, for example, dedicates several pages reporting when Muslims went to the Battle of Badr, and had to share their camels, who rode with whom and if other hadiths said differently he reported them too. Information like this, are utterly unimportant. It is easy to get drowned in the irrelevant and miss the relevant.
It is a real chore to go through thousands of pages and read irrelevant stories to get to the important facts and separate wheat from chaff. But that is only a minor problem. A bigger problem is to separate fact from fiction. There is virtually no story that does not contain some fiction. It is as if Muslims could not help themselves but to embellish everything they said about their prophet.
I went through all these books as well as the Quran and countless hadith and wrote a comprehensive book on the life of Muhammad. The result will be published in my new book The Life of Muhammad and hopefully will be shown also in a biopic. The movie and the book cover everything that is important and one need to know about the prophet of Islam.
Meanwhile I decided to write a very short history of the life of Muhammad for seventh graders and with the help of this mother and her lawyer we will try to convince the school to drop those books of lies and teach the truth to children. Uninformed children are easy prey, as we can witness so many teens going to join IS to either become murderers or satisfy them sexually. Also uninformed children grow up to become uninformed adults and lose their country to the enemy.
The text is short. It is written in an easy language for children in mind. But for adults I also included a reference so you can check and verify that nothing in this book is made up by me.
We are in the process of forming a task force, to first write about the other topics such as the history of the caliphs and the early Islam and the elements and laws of Islam. Once the text is complete, it is our goal to convince the authorities to adopt it as official text and stop feeding children with lies.
If you have a teen or know one, send this text to them. Send it to teachers and anyone you think should know it. If you think you can help in pushing the school board in your town to adopt this text please contact me. Our children are being indoctrinated and we must put an end to that. Not only children even most adults have no clue about Islam. This book is simple and makes things clear.
Ali Sina
Sometimes truth is stranger than fiction.  See it for yourself and if you don't believe check the reference.
This is also available in Telugu, Tamil, Malayalam, Kannada, Hindi and Bangla.