2016 Olympics: Why Muslim Countries Can't Jump
2016 Olympics: Why Muslims Can't Jump
In 2008 I wrote an article for FaithFreedom.org discussing why Intolerant Societies did so poorly in the Beijing Olympics. I compared the Olympic results of the "intolerant 23" countries with the results of open societies like the U.S., Russia, Britain, Australia, Germany, France, and South Korea. The intolerant 23 countries included China, North Korea, and Middle Eastern countries that deny visas to foreign religious workers. (See end note.) The medals per million of population for the "intolerant 23" was .067 while the medals per million of population for the other countries was .542 – or a difference of 800 percent. (Without China, the difference would be 1426 percent.)
Since the Quran insists that Muslims are "the noblest nation that has ever been raised up for mankind" (per Surah 3:110), it would be interesting to compare the 2016 Olympic performance of the fifty-six member states of the Organization of Islamic Cooperation (OIC) with the rest of the world's Olympic competitors. While not all citizens in OIC countries are Muslim and not all members of the other countries are non-Muslim, comparing the two groups might still provide insight into their respective "nobility" and the effects of intolerance. (China is excluded from the comparison because their inordinate population skews the data.)
Even before the Summer Games began, there was an incident during the opening ceremonies that set the tone for the OIC countries. The athletes from Lebanon refused to share the same Olympic bus with athletes from Israel. (http://www.bbc.com/sport/olympics/36998989) Later, during the judoka competition the losing Egyptian refused to shake hands with his Israeli opponent – a breach of Olympic etiquette and judoka sportsmanship. He was sent home.
(http://www.telegraph.co.uk/olympics/2016/08/15/egyptian-judoka-sent-home-after-refusing-israeli-opponents-hands/ )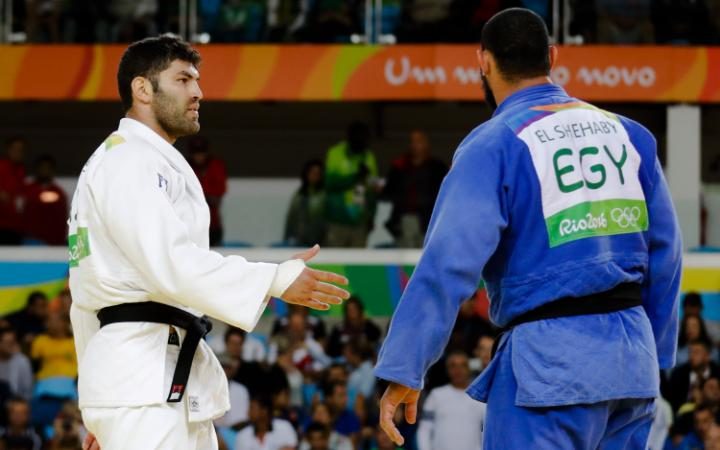 The OIC countries earned 91 medals for a population of 1.68 billion, or .018 medals per million of population. The other countries (excluding China) earned 813 medals for a population of 4.36 billion, or .229 medals per million of population. The difference is 1272 percent.
Few women athletes:
Probably the most obvious reason for this difference is there were fewer women athletes competing for the OIC countries. While 44 percent of the medalists were women among the non-OIC countries, women accounted for only 32 percent of the medalists in the OIC countries. Islamic Sharia Law mandates that a married woman may not leave the house without permission from a male guardian and may not be alone with a non-family member male. (Reliance of the Traveler, Section m10.12(2) ), that a woman may not be seen in public with more than their hands and face uncovered which prevents her from competing in many of the athletic events, (R of T, Section m2.8(1)), and that sports are unlawful if they prevent one from performing religious or this-worldly duties (R of T, Section k30.4(4)).
War doesn't go well with athletics:
Warfare and anarchy within Muslim countries certainly have a dampening effect on the medal count. Right now there is open warfare in Afghanistan, Iraq, Syria, and Yemen. None of those countries earned medals in 2016 or even in other recent Olympics, for that matter. This year the International Olympic Committee even set up a new category for displaced athletes – Refugee Olympic Athletes (ROA). Also, there was another category — Independent Olympic Athletes – for Kuwaiti athletes who were prevented from competing under their national flag due to government interference. They won two medals.
Hard work is demeaning for Muslims:
Western countries are driven by a work ethic which makes hard work and exertion noble. Training for the Olympics requires years of training and discipline. Muslims see such exertion as demeaning. A hadith of their prophet Muhammad says, "The plough brings submission into the house." (Another version says Muhammad pointed to a plough and said, "It does not enter a people's homestead except that Allah enters humiliation with it".) In other words, the path of hard work is the path of slavery, servility, and humiliation. With this mind-set, it would be extremely difficult for a Muslim athlete to make the sacrifices required and put in the hours of effort needed to qualify for Olympic competition.
Muslims default rather than compete with "enemies":
Athletes are randomly selected for preliminary rounds of competitions, but rarely will an athlete default because of the "luck of the draw." This year Saudi judoka Joud Fahmy forfeited her first-round match against an athlete from Mauritius — reportedly so she could avoid facing Israeli Gili Cohen in the second round. Saudi Arabia does not recognize Israel. While the Saudis claimed that she skipped the bout due to an earlier training injury, this was the only default in the entire 2016 Rio Olympics.
Ringers replace native athletes:
Some well-off Muslim Middle Eastern countries have chosen to compensate for their shortage of athletes by recruiting athletes from other countries. The only two medalists for Bahrain were actually Christian runners from Kenya – Ruth Jebet and Eunice Kirwa. They would actually be arrested in Bahrain if they were seen running in public in their track suits. While "adopting" athletes is legal under certain conditions, Bahrain's Olympic achievement could hardly be attributed to the nobleness of the Muslims in that country.
While the Summer Games favor ancient skills, OIC countries don't seem to master them
One might think that ancient athletic feats like shooting arrows, heaving javelins, throwing cannon balls, and even running on flat ground would favor the less-developed countries where the OIC dominates the politics. This does not seem to be the case. Here are the countries winning gold medals in ancient athletic skills:
Archery (men and women): Korea
Equestrian: Germany
Marathon (men and women): Kenya
Shot put (men and women): USA
Men's javelin: Germany
Women's javelin: Croatia
Men's sabre: Hungary
Women's sabre: Russia
The Olympic Games are supposed to be politically and religiously neutral competitions to help bring countries together. Most of the world celebrates the displays of athletic excellence and draws inspiration from the achievements of the participants. Sadly, politics and ideology put a drag on dozens of countries, which is difficult to hide on the scoreboard.
End notes:
1. The title to this article was inspired by the 1992 comedy "White Men Can't Jump." There is one Muslim who can jump quite well: Mutaz Essa Barshim, a Sudanese citizen of Qatar, who won a silver medal in Rio in the men's high jump, clearing 2.36 meters.
2. The 23 intolerant countries in the 2008 analysis were: Afghanistan, Algeria, Bahrain, Bhutan, Brunei, China, Egypt, Iran, Iraq, Jordan, Kuwait, Libya, Maldives, Morocco, North Korea, Oman, Palestine, Qatar, Saudi Arabia, Syria, Turkmenistan, United Arab Emirates, Uzbekistan, and Yemen. With the exception of China and North Korea, all of these countries are Muslim.