"Moderate" Rafsanjani or Head of a Financial Mafia?
---
The person BBC's John Simpson refers to as a "moderate":
Excerpts from Bloomberg
Suing Iran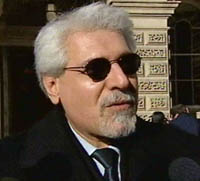 Houshang Bouzari, 51, an adviser to Iran 's oil minister in the 1980s, says doing business in Iran without paying someone in power is impossible. When he refused to pay a bribe, he says, he wound up in a Tehran prison. Now a Canadian citizen, Bouzari is suing the government of the Islamic Republic of Iran for torture, abduction and false imprisonment.
In 1988, Bouzari left his post and set up an oil trading and consulting firm with offices in Rome and Tehran . Four years later, he says, he began working with Saipem SpA, Europe's second-biggest oil field services company, and Tecnologie Progetti Lavori SpA, an Italian subsidiary of France's Technip SA, Europe's largest oil field services company.
With Bouzari's help, the companies secured a $1.8 billion contract to help develop Iran 's South Pars gas field, the area Hubbard targeted a decade later. Bouzari would have made as much as $36 million, or 2 percent of the total contract, he said in February 2002 in testimony at the Ontario Superior Court of Justice, where he's taken his case against the Iranian
government.
Tortured in Prison
Instead, Bouzari got nothing. He told the court that on June 1, 1993, three agents from Iran 's Intelligence Ministry arrested him as he was finishing his morning coffee. They took him to Evin, a Tehran prison where Iranian political prisoners are detained. Jailers whipped the soles of his feet with metal cables and pushed his head in a toilet, he testified. On three occasions, he was told to prepare for his imminent execution, according to the court transcript.
Bouzari spent more than eight months in prison. His wife paid $3 million to Iran 's Ministry of Information before he was released, court documents show. Bouzari then paid another $250,000 to secure his passport. He left Iran for Rome in July 1994 and emigrated to Canada in 1998.
Bouzari testified he was tortured because he'd refused to pay $50 million as a bribe to Mehdi Hashemi. "I didn't believe at that time in paying money to a government official or son of the president," Bouzari said.
Pressed for a Commission
In a February interview in London , Bouzari elaborated on his ordeal. "Mehdi and Yazdi pressed me to give them a commission, but I didn't need the Rafsanjanis because I had done all the hard work in lining up the contract," he said. "I was detained and tortured illegally. No shred of paper was ever presented to me or my family as to why I was jailed or tortured."
Bouzari sued in February 2002, seeking to regain the $3.25 million he says his imprisonment cost him. That May, Judge Katherine Swinton said she accepted the truth of Bouzari's testimony. She ruled the Canadian court had no jurisdiction over Iran as a sovereign nation.
In December 2003, Bouzari appealed to Ontario 's Court of Appeal, where the case is pending. While he waits, he has set up the International Coalition Against Torture, which aims to end state-sponsored abuse.
"I would have been killed had I tried to take this action in Iran ," Bouzari says.
'Psychological Warfare'
Mohammad Hashemi, 52, Rafsanjani's younger brother, dismisses such stories. He says his family is a victim of rumors, gossip and propaganda.
In a December interview at the former Saadabad Palace in northern Tehran , in a complex of buildings that once belonged to the deposed shah's sister, Hashemi says enemies of the Islamic regime are lying about the family wealth.
"This is part of the psychological warfare to create a rift between the people and their government," says Hashemi, who abandoned his studies at the University of California , Berkeley , in 1978 to join the revolution. He served as Iran 's vice president from 1995 to 2001 and headed state radio and television for 13 years. Today, he often acts as family spokesman with the international press.
Tea and Almonds
"Our Mehdi has said he had nothing to do with bribery," Hashemi says, speaking over a snack of tea and salted almonds in a room furnished with Louis XVI chairs, silk wallpaper and a Persian carpet. "If foreign companies want to do business, they should do so in a correct way without resorting to any middlemen."
Mehdi Hashemi declined telephone, fax and e-mail requests for an interview. In a March interview with the Shargh newspaper, a Tehran daily, he said he had no knowledge of Horton Investment and has had no consulting agreements with Statoil or Horton.
Student of Khomeini
Rafsanjani gained entry to Iran 's political and religious elite early on. He was one of nine children born into a pistachio farming family from the village of Bahraman , near Rafsanjan, a dusty town in central Iran . When he was 14, his parents sent him to Qom, a seminary town on the northern fringes of the Dasht-e Kavir Desert.
Khomeini taught classes there, and Rafsanjani studied Islamic law, morality and mysticism. Khomeini advocated giving clerics more say in running the country, an interpretation that contrasted with the then Shiite leadership, which shunned political entanglements, Bakhash said in his book.
In 1964, Iran's military arrested Khomeini and exiled him to Izmir, Turkey, and Najaf, Iraq. Khomeini opposed the shah's policies on women's rights and land reform, under which the government accumulated property from Iran's mosques. He also fought the growing role of the U.S. military in Iran. During the next 15 years, Rafsanjani landed in jail five times for his own activities against the shah.
Shah's Regime Falls
The shah's regime fell in 1979 after his modernization plans and links to the U.S. sparked a revolution. Khomeini returned as a national hero and pushed his idea that only the religious class may rule. An assembly composed of 82 percent clerics changed Iran's constitution to create an Islamic republic.
Rafsanjani stayed at the center of power. He was a member of the Revolutionary Council, which ordered executions of officials in the shah's regime, Bakhash writes. He was speaker of the Majlis, Iran's parliament, for nine years. He acted as Khomeini's representative on the Supreme Defense Council -- or war cabinet -- during the eight-year war with Iraq. The war ended in a stalemate in 1988, leaving a million casualties. In 1989, Rafsanjani was elected president, replacing Khamenei, the current Supreme Leader.
Today, Rafsanjani's two terms are remembered for corruption and nepotism, says Mehdi Haeri, a lawyer in Bochum, Germany. Haeri, himself a former student of Khomeini and a classmate of President Khatami at Qom Theology School, spent four years in jail for criticizing Khomeini's ideas on Islamic rule.
In 1997, Haeri testified before the U.S. House International Relations Committee in favor of continuing U.S. sanctions against Iran. "In every major industry and in every financial activity, you find the Rafsanjani family somehow connected," Haeri said.