Muslim menace: A 'Pig' solution for the 'Big' Problem
(Disclaimer: The author contributed to this article in his personal capacity. The views expressed are his own and do not necessarily represent the views of FFI.)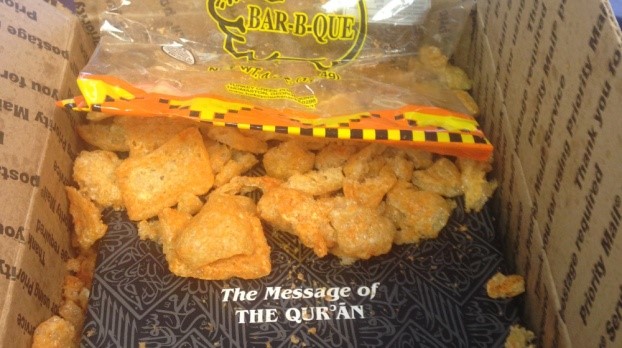 Photo of a Qur'an covered in pork rinds sent to the CARE in Washington, DC
"I have myself a poetical enthusiasm for pigs, and the paradise of my fancy is one where pigs have wings".                                                                                                                            Gilbert Keith Chesterton (Manguel, 2000, p. 149)
Islam is a bankrupt ideology from the standpoint of humanism. The poisonous verses of the 'Unholy Qur'an' are passed down to the Muslims generation after generation as unquestionable word of Allah, and as time passed, Muslims are found to take up these words and make them into weapons to cause injustice, oppression, domination and for conversion by force.
Today radical Muslim groups aim to infiltrate Western societies in order to attack and destabilize them. They ruthlessly exploit welfare systems, due process, and Western norms to suck all the resources they can from their host nations. And that calls for extra caution to ensure that they don't succeed. We are not heading for a global war against Islam, rather we are already in one. Of course, the preference is peace first but if a fight is to be had we are determined and resolved to win. Since everything is fair in love and war, in this article I wish to suggest a new goal-setting strategy. As the name of this article implies, we can use pig and pork products to deter Muslims and safeguard ourselves. The Qur'an expressly forbids pork.
"He has only forbidden you what dies of itself, and blood, and flesh of swine, and that over which any other (name) than (that of) Allah has been invoked…" (Q: 2.173)
"Forbidden to you is that which dies of itself, and blood, and flesh of swine, and that on which any other name than that of Allah has been invoked…" (Q: 5.3)
"Say: I do not find in that which has been revealed to me anything forbidden for an eater to eat of except that it be what has died of itself, or blood poured forth, or flesh of swine– for that surely is unclean– or that which is a transgression, other than (the name of) Allah having been invoked on it." (Q: 6.145)
"He has only forbidden you what dies of itself and blood and flesh of swine and that over which any other name than that of Allah has been invoked…" (Q: 16.115)
In fact, even the sight of pork/pigs is so offensive to Muslims that once a TV executive told Salman Rushdie seriously that the word 'pork' is "a four-letter word and the word cannot be spoken on Pakistan television" (Rushdie, 1991, p. 38; Clark, 2001, p. 12). George Orwell's Animal Farm is banned from Islamic countries since the main characters are pigs. The Muppet character Miss Piggy are smashed publicly if found in toy shops (Warraq, 2003, p. 333). Therefore, pork is to Muslims as garlic or a crucifix is to vampires. This dietary prohibition and the strong hatred of the Muslims towards pork products is a weak point of the Muslims.
Hence, we can successfully weaponize pork against them. This idea seems ridiculous, but there are authentic reports that people have been using pigs and pig products deliberately to frighten Muslims by belittling their faith for centuries. The British often used the "pork" issue against Muslims in wars in the dim, dark past. U.S. General John J. Pershing effectively discouraged Muslim terrorists in the Philippines by killing them and burying their bodies along with those of pigs. Pershing (2013, p. 285) wrote in his autobiography, "It was not pleasant to have to take such measures, but the prospect of going to hell instead of heaven sometimes deter the would-be assassins". The dead Muslim's body can be covered with pig skin before burying. According to the 'Moskovskij Komsomolets' daily newspaper, Russian security have been burying Chechen terrorists wrapped in pig's skin ever since the Moscow theater hostage crisis (also known as the 2002 Nord-Ost siege) on October 23, 2002. Studies had shown that such actions have become a deterrent amongst Chechen Muslims.
Residents of Gush Katif (a bloc of 17 Israeli settlements in the southern Gaza strip) have tried the formula in the past, inserting pig fat in the body of terrorists that have attacked their homes.
Ever since the 9/11 terror attacks, swine-based defense tactics and threats have increased tremendously all over the West. A few of the recent incidents suggest that many people in the West now view pork as an almost magical talisman that will somehow ward off scary Muslims who fear any contact with the stuff. Pigs and pork products can be used by various ways, such as,
Pork-laced anti-Islam bullets: This is already an actual thing not a matter of future. In the 1990s, Israeli rabbi and chemist Moshe Antelman developed a bullet containing pig fat to use against his nation's Islamic enemies. The bullets, covered in bacon grease, are "defensive deterrent to those who violently act in the name of Islam" (Alawa, 2017). The ammunition company, Jihawg Ammo, says that their goal is to turn the tables on the radical Muslims.
"We at Jihawg Ammo hope you will stock up on Jihawg as a natural deterrent to the ever growing threat of radical Islam and Sharia Law. We, however, stress that the nullifying principle of our product is only effective if you are attacked by an Islamist in Jihad. Otherwise, our ammo functions just like any other ammunition so we obviously insist upon defensive use of our ammo only-not offensive." (Johnson, 2013)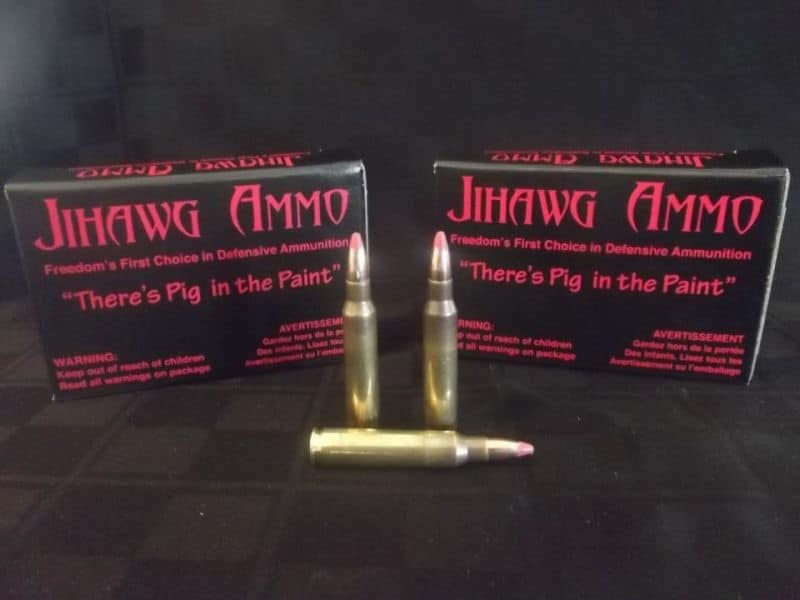 The tagline of Jihawg Ammo is 'Put some HAM in Mohamed' and these bullets "don't just kill an Islamist terrorist, you also send him to hell" (Goldstein, 2013). Jihawg Ammo is certified 'Haraam' or unclean. Hence this type of bullets is a natural deterrent to radical and suicidal acts of Islamic violence.
The ammo has the Internet buzzing and many consumers are buying this US$ 20-per-box ammunition. This product has a tagline 'There's Pig in the Paint'. It is high time this product should be mass-produced so that every patriot can get a hold of it.
Pork punishment for captured Muslim terrorists: Captured terrorists can be punished with pork, such as injecting pig fat into his buttock, or filling up his rectum with beacons or sausages etc. These methods are painful, but then they are almost sure cure of Islamic terrorism. When a Muslim terrorist is given a dose of pig fat injection, he will carry the humiliation all over his life. His career as a terrorist will be ruined because he would no longer be accepted by his terrorist organization.
Pork-based riot control: In recent years we have seen many harsh street demonstrations by the Muslims which deteriorate into endless anarchy. How to prevent these? The existing methods of suppression, such as tear gas, rubber bullets, or truncheons are not sufficient. Deadly force quickly produces martyrs and often only exacerbates violence. Rioters may retreat momentarily, regroup, and then pelt police with rocks which can continue for hours, days even weeks.
In this situation for Muslim crowd dispersal, shotgun shells could be loaded up with bacon bits. Such "pigshot" can quickly break up rowdy demonstrators without harming non-Muslims. Vehicles can be modified into mobile kitchens, complete with a traditional large exterior ventilating circular fan. When the rioting Islamic fundamentalists are within range and the wind conditions are favorable, pork strips would be cooked in giant woks. With the scent of freshly cooked pork everywhere, the rioters will be traumatized. Many of those pork-smelling Muslims will be barred from their own homes.
To make this plan successful, we should have properly trained 'Pork Police' with distinct uniform. The same police force can use pig blood to deter refugee thugs and fake asylum seekers. There are authentic reports that some Muslim asylum seekers are claiming to be Christians in order to gain shelter. The Pork Police can use the pig blood method to identify these fakes from real Christians.
Spray guns filled with liquid lard: One of the hallmarks of Muslim asylum seekers is their grotesque savagery against women. The stories are horrifying, sometimes involving attacks in broad daylight and in public spaces like parks, trains, and train stations. This is 'rape jihad', as Andrew McCarthy coined the term in 2015 to describe the systematic, large-scale, and public attacks on women. The sad part is that the authorities try to cover up or pay little attention to the worst atrocities due to political reasons. Then what is the solution? The best solution is that the women should arm themselves with spray guns filled with liquid lard, which they would then spray on the unwanted Muslim as the need arises.
Interior decoration with pig's blood: For over a century pig's blood had been used as additive for paints because it gives the colour Suffolk Pink (McAuliffe, 2016, p. 11). This is still used widely in many places in UK. In fact, the classic looks of Irish homes are attained by using pig blood with lime. From our best understandings of the Muslims, it is logical to say that such homes are comparatively much safer from unwanted Muslim disturbances than other homes. Public buildings, such as shopping malls, offices, clubs, hospitals, airports should be entirely treated with such interior finishing. This will not only give the buildings an aristocrat look but will also ensure enhanced security from Muslim terrorists. Pork blood paints are cheaper than readymade colour paints. As an additional security measure, pork blood paintings can be hung at suitable public places.
Pet pigs can stop Muslim interference: Muslims have a very ill reputation of being suspicious of everyone around them particularly non-Muslims and ex-Muslims. This is the reason they cannot coexist peacefully with others. They pry on others and many of them are incredibly paranoid all the time and constantly on the lookout for clues or suggestions to validate his fears. This attitude impacts all areas of life, relationship, work, socialization, and legal issues. This filthy habit is highly condemnable in the Western civilized society but quite normal in the Islamic moral system. I have a probable solution for this. If a pig is taken as pet, there is a possibility that Muslims in the neighborhood will not pry into the secrets of others. Pigs are intelligent, inquisitive, social animals and can be house trained (Lewis, 2011). They are a lot cleaner than their popular reputation indicates, and they can make super pets because they are very obedient and at times very funny.
Also eat pork products regularly and let your Muslim neighbors know about it. Fatty Pork is one of the top ten most nutritious food in the world. Pork fat is more unsaturated and healthier than lamb or beef fat. Also, it is a good source of B vitamins and minerals, which are vital for our body.
Insertion of bags of pig fat in public buses and other central locations: The idea is a packet of pig blood or pig fat affixed to public walls. In theory, the blood packet would explode in event of a suicide bomb, mixing the bomber's blood with that of the pig, and denying him from heaven.
BBC news (2004) service had reported that a leading Israeli Rabbi, by the name Eliezer Fisher had suggested this idea to police. The newspaper Maariv said rabbinical authorities had sanctioned the plan to use the product "if it might save lives". Israeli Deputy Defence Minister Yaacov Edri said he supported the proposal.  The newspaper Maariv quoted him as saying, "If bags of pig lard will prevent zealous Muslim terrorists from carrying out attacks, I'm all for it." This despite the fact that by following the Torah, pork is a prohibited product for the Jewish community also.
Desecration of mosques through the use of pork: Severed pig heads should be dumped at the site of proposed mosques. Make sure the press knows and reports it. As an additional measure, hundreds of liters of pig blood should be spilled in the vicinity. This action should be repeated in case rain and snowfall cleanse the ground. This is the only way to halt the construction of the mosque and growing expansion of Islam.
Therefore, as a conclusion, we can say that since Islam is a big threat for the civilized society, we must counteract with our 'pig' threat. This is a sure cure for all Qur'anic terrorism. In fact, pork products might be more powerful than nuclear weapons.
As per one report (Hamill, 2015), an American by the name Franklin R Lacy from Florida had applied for patent for such an offensive "anti-terror" system designed to spray Muslims with pig blood, a system which is "for protecting against terrorist and illegal invasion". His invention involves placing containers of clearly labelled pig blood in sensitive areas, in the hope suicide attackers would avoid detonating a bomb nearby for fear of getting covered in it. Another would-be inventor named Mark S. Price announced in a press release that he has recently submitted an application to the U.S. Patent and Trademark Office for the "Suicide Bomb Deterrent," which he says is already scheduled for deployment "at several high traffic public venues around the nation in order to protect America's vital transportation and critical infrastructure" (Quigley, 2010). Tzvi Hendel, an Israeli politician, commented very appropriately,
"If these primitive murderers stuff their brains with nonsense about Paradise and who-knows-how-many virgins waiting only for them, then they certainly believe in the other nonsense that being buried with pigskin blocks their way to Paradise." (Anon, 2004)
Islam is riddled with superstitions, the most prominent of them all being the lure of a paradise full of seventy-two virgins – a complete refusal of science and logic. Prophet Muhammad was a fabricator of lies and his fairy tale of heaven and hell-fire still lingers on in the minds of Muslims. Sincere thanks to Muhammad and his lie factory, let's take full advantage; there is nothing wrong in it.
But deep down, what a tragedy on the part of humanity and human intelligence!
References
Alawa, Laila (2017); Come at Me, Pork!, Huffpost, dated Dec. 06, 2017, URL: https://www.huffingtonpost.com/laila-alawa/come-at-me-pork_b_3521942.html (last accessed August 21, 2018)
Anon (2004); Swine: Secret Weapon Against Islamic Terror? Arutz Sheva, URL: https://www.israelnationalnews.com/News/News.aspx/57793 (last accessed August 23, 2018)
BBC news (2004); Suicide bombing 'pig fat threat', 13 February, 2004, URL: http://news.bbc.co.uk/2/hi/middle_east/3484277.stm (last accessed August 23, 2018)
Clark, Roger Y. (2001); Stranger Gods: Salman Rushdie's Other Worlds, McGill-Queen's University Press, London,
Goldstein, Sasha (2013); 'Pork' bullets meant to send Muslim terrorists to hell Jihawg, New York Daily News, dated June 25, 2013, URL: http://www.nydailynews.com/news/national/pork-bullets-aim-send-jihadists-hell-article-1.1382008  (last accessed August 24, 2018)
Hamill, Jasper (2015); 'Anti-terror' invention designed to spray Muslims with PIG BLOOD is 'deeply offensive', says faith group, mirror, Marth 4, 2015 issue, URL: https://www.mirror.co.uk/news/technology-science/technology/anti-terror-invention-designed-spray-muslims-5271157 (last accessed August 23, 2018)
Johnson, Steve (2013); Jihawg Ammo: Pork Covered Ammunition Designed To Offend, TFB, dated June 10, 2013,
URL: https://www.thefirearmblog.com/blog/2013/06/10/jihawg-ammo-pork-covered-ammunition-designed-offend/ (last accessed August 23, 2018)
Lewis, Celia (2011); The Illustrated Guide to Pigs: How To Choose Them – How To Keep Them, Bloomsbury Publishing Plc, London
Manguel, Alberto (2000); On Lying in Bed and Other Essays by G. K. Chesterton, Bayeux Arts, Calgary, Canada
McAuliffe, Marisha (2016); Through the Colour Lens, Oxford Global Press, London
Pershing, John J. (2013); My Life Before the World War, 1860 – 1917: A Memoir, The university press of Kentucky, Lexington, USA,
Quigley, Robert (2010); Would Pork Bombs Work as a Terrorist Deterrent?, The Mary Sue, July 27, 2010, URL: https://www.themarysue.com/pork-bomb-terrorism-deterrent/  (last accessed August 21, 2018)
Rushdie, Salman (1991); Imaginary Homelands: Essays and Criticism 1981-1991, Granta Books, London
Warraq, Ibn (2003); Why I am not a Muslim, Prometheus Books, Amherst, NY
Author can be contacted at  counter.jihad [at] yahoo.co.uk